The BMA GP committee and NHS England have agreed, through the national contract negotiations, for the development and rollout of PCNs.
PCNs are groups of GP practices working closely together - along with other healthcare staff and organisations - providing integrated services to the local population.
Since April 2019, individual GP practices can establish or join PCNs covering populations of between 30,000 to 50,000 (with some flexibility).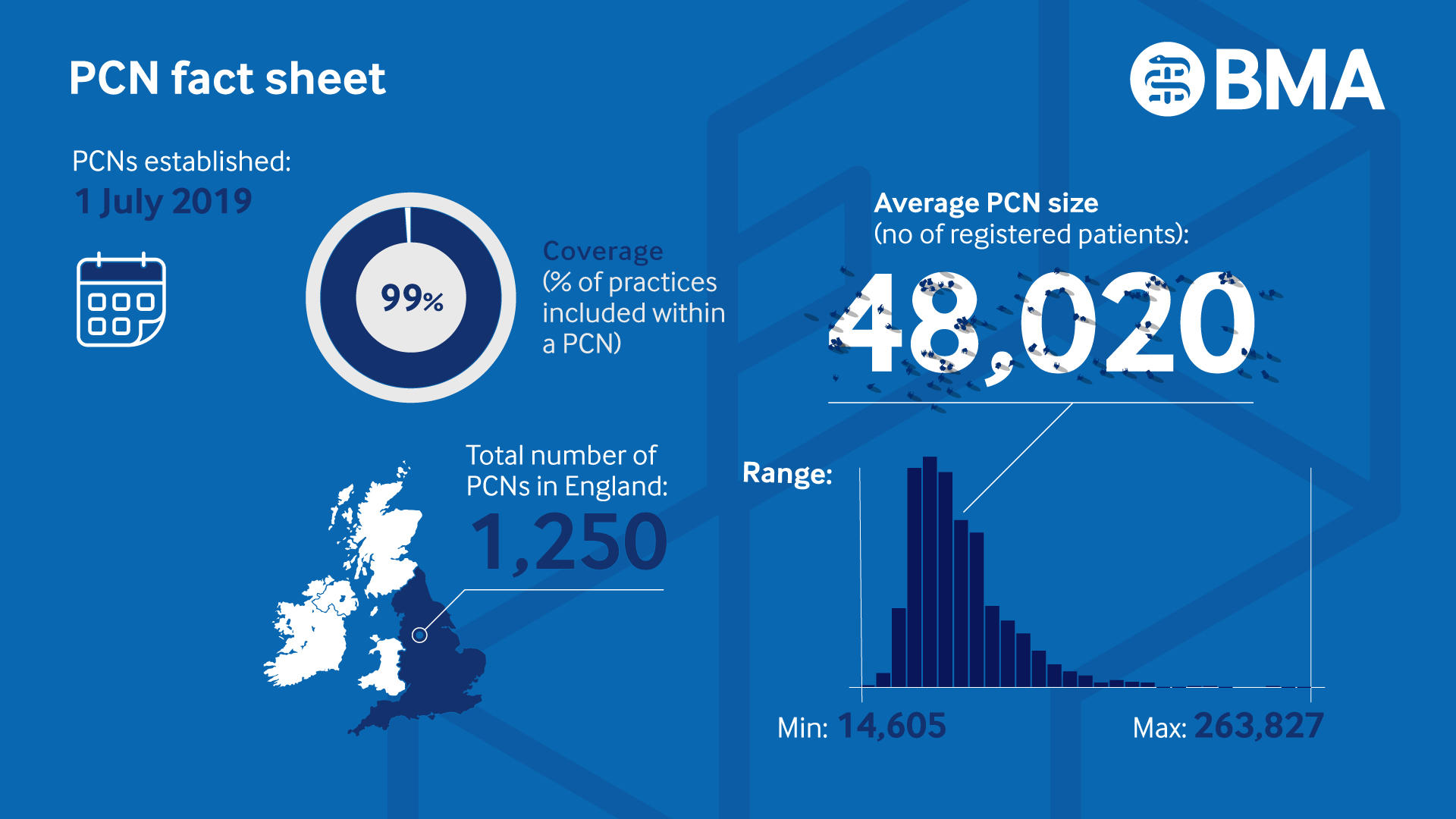 Funding
A DES (directed enhanced service) will support the development of PCNs. It will include funding for additional workforce and services that the PCN will provide.
The BMA has been working with NHS England to ensure PCNs keep the best of how primary care currently operates, building on the GMS contract and partnership model. We also want to find improved ways to deliver care that benefits patients, clinicians and the wider primary care team.
The aim of PCNs
To focus services around local communities.
To help rebuild and reconnect the primary healthcare team across the area.
Alleviate workload.
Be practice-led, as ensured by LMCs and CCGs.
To allow GPs and primary care practitioners to deliver a new model of care for their patients and communities.
How PCNs fit into the NHS structure
ICS (integrated care systems) are a new way of planning and organising the delivery of health and care services in England at a larger scale than PCNs.
Every ICS will have a critical role in ensuring that PCNs work with other community staff and use multi-disciplinary teams across primary and community care.
PCN member survey
We launched a PCN clinical directors survey in October 2019.
In our November 2020 survey, we wanted to hear directly from clinical leaders about the challenges of delivering new services, operating under the testing circumstances of a global public health crisis and about the future of PCNs.
The results show that a year and a half after the creation of PCNs, clinical directors remain confident about what networks can achieve over the next few years. This is dependent on appropriate financial and staffing resources being made available and being given more time to deliver the requirements of the PCN DES.
PCN DES ballot results
GPs in England voted on whether you think the primary care network directed enhanced service should continue and inform the BMA's future negotiations.
View the results