Top story
Most important thing is public having simple messages, says BMA council chair
On Friday evening, BMA council chair Dr Chaand Nagpaul appeared on Sky News to discuss changes to mandatory face covering rules that means they are extended to cover more indoor venues including museums and cinemas.

"What we've seen is a drip feed of policy. First it was only public transport, and then it was only shops. Museums weren't included, cinemas weren't included, offices were in fact not part of that programme of face coverings. And people who work in shops were told they weren't required to wear face coverings. This is confusing. You need to have a simple policy."
Find out more
Interview with Sky News on 31 July 2020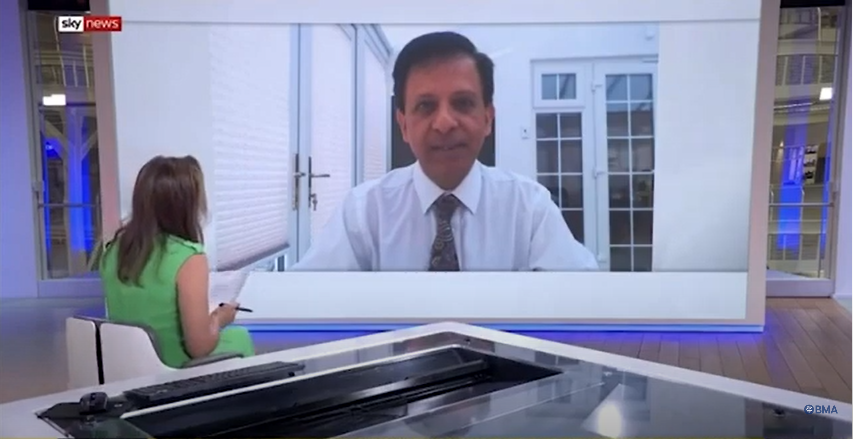 Even before Covid-19, NHS workers struggled to cope with acute staff shortages, long hours and real-terms decreases in income. Inevitably, the pandemic has exacerbated the effects of these entrenched problems while presenting additional pressures – not least the risks to personal safety and substantially increased working hours that many doctors have faced. Sadly many doctors have also died. Doctors should never feel obliged to conceal mental health issues or to attend work when unwell. Doctors often feel guilty when off work due to illness and this has to change. To tackle the stigma that still remains, employers must build a more supportive culture for the workforce and normalise conversations about mental health.

Dr David Wrigley, BMA council deputy chair, speaking to the Sunday Telegraph
Previous news coverage
Sign up for COVID-19 updates from the BMA
Enter your details and you will receive emails informing you about:
COVID-19 guidance
News and blogs about COVID-19
Information on BMA support
Updates on your working situation during the pandemic
You can unsubscribe to these emails at any time.
Sign up for email updates