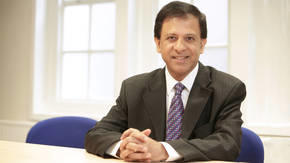 31 May 2020
Dear members,

Throughout this pandemic your health and wellbeing has been central to the BMA's commitment to protect, support and represent you in these exceptionally challenging times.
A tragic consequence of this deadly virus has been the increasing number of our colleagues who have lost their lives from contracting the infection, and what is more alarming is that so far 94% of those doctors have come from a BAME background.
That is why, on behalf of the BMA, I called for a government investigation into the disproportionate impact of coronavirus infection on BAME healthcare workers and the community. This review is being undertaken by Public Health England and is due to report shortly.
The BMA also called for immediate actions to identify those doctors who are at highest risk from the virus by means of a risk assessment, and for necessary steps to be taken to safeguard them from avoidable harm. This is in addition to our unrelenting pressure on the government to ensure that all doctors are provided with the necessary PPE to protect them from infection at work.
Simon Stevens, NHS England Chief Executive, subsequently wrote to NHS providers and CCGs at the end of April asking them to take precautionary measures to protect BAME staff. This was followed by guidance on advising employers to conduct risk assessments which was published on the Faculty of Occupational Medicine website.
Further, last week the chairs and co-chairs of the BMA's consultants committee, SAS committee, junior doctors committee and medical academic staff committee wrote to every NHS Trust CEO in England in order to urge them to introduce a risk scoring tool to identify those members of their medical staff who are at increased risk of death from COVID-19 infection and to take corresponding action.
Guidance and tools to help protect you
Yesterday NHS Employers published long-awaited new guidance on the use of risk assessment tools throughout the NHS. This is an important step in helping to protect you and help employers assess and manage your risk to COVID-19 in your work setting.
If you or a fellow healthcare worker is identified as high-risk, employers must take proactive steps to minimise your exposure to the virus – including through redeployment to less hazardous areas or supporting them to work remotely where possible. As the proportion of patients with COVID-19 is reduced and standard NHS services are resumed, there will be greater opportunity to redeploy doctors in a manner which effectively serves patients whilst minimising the level of risk facing potentially vulnerable individuals.
Please note that you and your colleagues are entitled to a risk assessment in relation to the risk of COVID-19 to your health. In our 4th wave COVID survey over half of doctors were not aware that they could have a risk assessment in their place of work. To help and to protect you the BMA has published resources on conducting COVID-19 risk assessments on our website.
The BMA's new resources specify that all doctors should be able to have a COVID-19 risk assessment and helps you determine your level of risk. The resources also sign posts practical actions that should be taken to avoid or mitigate the risks which older, BAME or pregnant doctors – as well as those with pre-existing conditions – might face if working in settings with coronavirus-positive patients.
In general practice we know that many GP practices will be concerned that they could be left without the ability to adequately see patients face-to-face if significant numbers of clinicians are categorised as high risk as a result of assessments, or a practice may need to employ locums in order to do so.
The BMA's GP England committee has raised this with NHS England and are clear that practices should not be penalised for doing the right thing if forced to shoulder this extra cost as a result. In England practices should contact their CCG for support if difficulties arise and to also inform their LMC. The GP England committee is currently pressing ministers to approve the necessary funding to support practices when it is necessary.
Following a risk assessment, if you are still concerned that adequate steps have not been taken to mitigate the risk you face, you can and should take it further with your employer. If you need support to raise this with your employer please contact the BMA for advocacy and advice on 0300 123 1233, at [email protected] or via webchat.
Your safety counts. I would urge you to draw on the new guidance issued by NHS Employers and use the BMA resources and the risk assessment tools available to help protect yourself and colleagues.
Please do not forget though, these tools should be used purely as tools as part of a personal risk assessment and should not be used as a blunt instrument overriding relevant individual circumstances or risks. Nor should they replace the advice some doctors will have received by letter or text message, determining them as clinically vulnerable or clinically extremely vulnerable.
Our COVID snaphot surveys: your views on the pandemic matter
I would like to take this opportunity to thank the tens of thousands of you who have taken part in our regular COVID tracker surveys. These surveys have allowed the BMA to speak with an authoritative voice in representing you and demand action on major issues of concern including PPE.
The latest 5th wave survey closed yesterday. We will be analysing and publishing the results in the days ahead.
In the meantime, I wanted to share with you the results of our last published 4th wave survey. As you will note:
over half of all doctors said care available to patients with non-COVID-19 symptoms was worsening, and with 30% saying significantly so
over half of GPs and hospitals doctors are either not at all or not very confident that their own department will be able to manage patient demand as normal services are resumed, with nearly three-quarters of hospital doctors and 65% of GPs expressing the same concerns about care in community settings
12% of hospital doctors and 14% of GPs have been unable to work or had to reduce hours over lack of sufficient childcare
32% felt that they are suffering from any of depression, anxiety, stress, burnout*, emotional distress or other mental health condition worse now than before the pandemic.
You can also see some of the trends that have emerged over the previous four waves of the survey.
As you can see while PPE still remains a concern for many, however there has been improvements in the supply of adequate supplies, which is in no small part down to the pressure the BMA has been able and will continue to bring to bear to ensure you can safely care for patients.
We are here for you
Finally, please remember that the BMA exists as a professional association and trade union to look after you so that you can look after your patients. We will continue to stand with you throughout the course of this pandemic, and to fight your corner in the days, weeks, months and years ahead.
If you need any assistance please contact us on 0300 123 1233, at [email protected] or via webchat.
With all good and safe wishes.
Sign up for COVID-19 updates from the BMA
Enter your details and you will receive emails informing you about:
COVID-19 guidance
News and blogs about COVID-19
Information on BMA support
Updates on your working situation during the pandemic
You can unsubscribe to these emails at any time.
Sign up for email updates